Drive Safer Sunday is November 26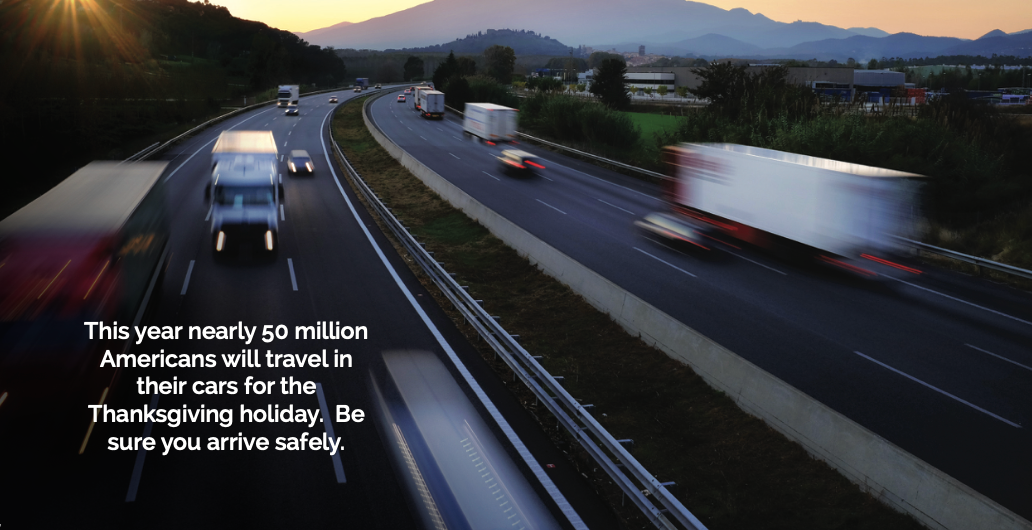 Senator Warnock (D-GA) and Senator Capito (R-WV) introduced and passed a bipartisan resolution to designate the Sunday after Thanksgiving as DRIVE SAFER SUNDAY.  The Sunday after Thanksgiving is one of the busiest travel days of the year, and it's also one of the deadliest.  We are thankful that Senator Warnock and Senator Capito introduced this resolution to help raise awareness about the importance of safe driving, especially during the holiday season.
In Georgia, there were 18 traffic crash deaths during the 2022 Thanksgiving holiday period. In addition to fatal crashes, there were nearly 600 traffic crashes statewide during this period, resulting in almost 300 injuries. From 2017 to 2021, 82 Georgians were killed in traffic crashes during the Thanksgiving holiday period and there was a total of 16,171 traffic crashes reported that resulted in 5,727 injuries.
"Since the Sunday after Thanksgiving is one of the most congested road traffic days of the year and the day our son, Cullum, was killed while driving back to college, we hope that Drive Safer Sunday will encourage extra focus on safe driving that day," said Steve and Susan Owings, Co-Founders of Road Safe America and Institute for Safer Trucking board members. "We also hope that this safety focus will be carried on during the holiday season and all year around."
This Bi-Partisan Resolution encourages:
1.       K-12 schools, colleges, teachers, and administrators to launch campus-wide educational campaigns to urge students to focus on safe driving;
2.       Trucking firms to alert employees to focus on safe driving the Sunday after Thanksgiving and publicize its importance on the Citizens Band Radio Service and at truck stops;
3.       Clergy to remind congregations to travel safely when attending services;
4.       Law enforcement to remind drivers and passengers to drive safely;
5.       Americans wear seat belts and educate themselves about highway safety.
First introduced in 2005, this resolution has historically been a bipartisan effort led by one of Georgia's U.S. Senators. The effort was started by Steve and Susan Owings, board members of the Institute for Safer Trucking from Atlanta, whose son Cullum was tragically killed in a truck crash after returning to college from their family Thanksgiving in 2002. Since Cullum's passing, Steve and Susan Owings have advocated for safer trucking and have worked with Georgia's Congressional delegation to introduce this resolution. As a member of the U.S. Senate committee overseeing the nation's transportation policy, transportation safety will always be a priority for Senator Warnock.
I am wishing each of you a Happy and Safe Thanksgiving.
Robin Frazer Clark is a trial lawyer who pursues justice for those who have personal injury claims as a result of being injured in motor vehicle wrecks, trucking wrecks, defective products, defective maintenance of roads, premises safety, medical malpractice and other incidents caused by the negligence of others.  Ms. Clark is the 50th President of the State Bar of Georgia, a Past President of Georgia Trial Lawyers Association, a Past President of the Lawyers Club of Atlanta and has practiced law in Georgia for 35 years. She is a member of the International Society of Barristers and of the American Board of Trial Advocates. She is a Fellow of the American College of Trial Lawyers. Mrs. Clark is listed as one of the Top 50 Women Trial Lawyers in Georgia and the Top 25 National Women Trial Lawyers and is a Georgia Super Lawyer. Ms. Clark is the co-host of the podcast "See You In Court," sponsored by the Georgia Civil Justice Foundation.  Ms. Clark has tried over 75 jury trials and argued in Georgia Appellate Courts over 45 times.
Robin Frazer Clark ~ Dedicated to the Constitution's Promise of Justice for All.