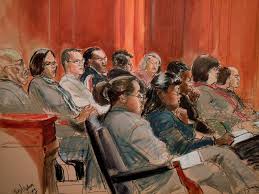 I have been thinking a lot about "justice" lately.  I have just finished a week long medical malpractice trial in DeKalb County in which I did not think justice was served for the family who lost their loved one (more on that in a minute) although I don't criticize the jury in any way. That alone is probably a difficult concept for lay persons to accept, but it is the truth for trial lawyers.  I also can't remember a time when the word "justice" has been thrown out more in the media, in social media, in sermons and in everyday conversations than it has in the last few weeks due to the events in Ferguson, MO.  That is extraordinary for the United States, a nation founded upon the very principles of justice. Try Googling "was justice served" and you'll get a myriad (actually 1,920,000 ) of opinions regarding the Ferguson shooting, with about half of the articles responding in the affirmative and about half responding in the negative.  Maybe this rough split of 50/50 is proof in and of itself that the justice system usually gets it right.
I was also skimming through a book titled "Justice" recently which noted that most Americans don't take any oath to support and uphold the Constitution or even the laws of the state in which they reside.  I find that interesting because I have done so several times, first when I was sworn in to practice law in the state courts of Georgia, then when I was sworn in the Georgia Court of Appeals, then when I was sworn in the Georgia Supreme Court,  then when I was sworn in in the United States District Court for the Northern District of Georgia, then when I was sworn in to the United States Supreme Court, and then as an officer of the State Bar of Georgia and then, most recently, when I took the office of President of the State Bar of Georgia. That's a lot of swearing!!  But each time (at least 7, maybe more) I swore I would protect and defend the Constitution of the United States, the Constitution of the State of Georgia and the laws of the State of Georgia, "so help me God."  I take that oath as seriously as any single person has ever taken it. Part of that sacred oath is to protect and defend our justice system, criminal and civil.  You will never hear me criticizing our justice system. There may be some things wrong with it, but it is still the greatest system ever devised by man for self-government.  As Winston Churchill said about Democracy:  "Democracy is the worst form of government except for all those others that have been tried."
I say all of the above because after 27 years of practicing law in Georgia, I am on the verge of concluding that a victim of medical malpractice in this state cannot obtain justice.  Jurors here in Georgia will look for the smallest shred of doubt, will do almost anything, not to hold a physician liable for his negligence.   I can't pinpoint one cause…there are probably many.  TV advertisers must shoulder a lot of the blame.  I am not a TV advertiser.  I am an actual trial lawyer.  When I stand in front of a jury to begin jury selection, those jurors are already suspicious of me because they know only of personal injury lawyers who advertise on TV with silly slogans or theme music, or has-been actors touting the lawyer's legal acumen.  Although I have never advertised on TV or anywhere for that matter, I am lumped in with those who do because I am a personal injury lawyer. I am guilty by association.